Best Flight Deals to Athens -



Call us on 1-866-723-9393 to know more routes and airfares and book cheap flights to Athens.
When you book your flight to Athens with Travelguzs, you can be assured that you've gotten the best deal on the market. Various airlines offer cheap flights to Athens at different times and on different circumstances. It's essential to familiarize yourself with the specifics of each airline's offer.
Many international airlines operate business class flights to Athens, one of the busiest destinations for business class travel. Check our business class deals, according to your travel dates. Let us help book your travel to make you save big on flight tickets to Eleftherios Venizelos Int'l (ATH), Athens Greece.
About Athens
Athens is Greece's capital and its cultural, political, and economic center. Ancient Greek democracy had a profound impact on the construction of other political organizations across the world, as it was the birthplace of great artists and thinkers throughout the ancient world.
While historical sites such as the Agora and the Acropolis should not be overlooked, contemporary Athens has much to offer visitors. You may plunge into marketplaces like Monastiraki, sight shop at shops in Kolonaki, jump between galleries in Metaxourgeio, and eat nutritious Greek foods at amazing local tavernas after enjoying a walking tour of the ancient ruins.
Athens has a lot to offer (in addition to its spectacular landmarks), including a delectable and diverse Mediterranean cuisine. Colorful veggies, succulent meat, and delectable cheese are just three few of the many delights served in traditional Greek cuisine.
A journey to Athens' is never complete without visiting neighboring towns and villages.
Best Time to Visit Athens -
The moderate climate of Athens makes it a year-round destination, albeit summer is the most popular season. During the summer, the Athens and Epidaurus Festival features live music, art demonstrations, theatre performances, and cultural events. During the full moon in August, several attractions, including nightly opera, classical music, and traditional dance events, are free to visit. July is the most popular month to visit Athens. The Rockwave Event, which takes place in the summer, is Greece's largest rock festival.

Athens Airport:-
Athens Airport is located 30 kilometers (19 miles) east of Athens, between the cities of Koropi, Markopoulo, Spata, and Loutsa. On March 29th, 2001, the Eleftherios Venizelos International Airport in Spata opened its doors. It took the place of the former Ellinikon Airport. It is now Greece's busiest airport.
There is one main terminal building and one satellite terminal at the airport. All check-in counters, Hall A and Hall B are located in the main terminal. Non-Schengen countries and destinations outside of Europe are served from Hall A. Flights to Schengen countries and local locations, such as the Greek islands, are scheduled to depart from Hall B.

Best Tourist Attractions:-
Athens is home to fantastic cultural sites, vibrant districts, fascinating museums, and charming parks and gardens. Check out the top-rated attractions in Greece's capital.
1] ] Acropolis Museum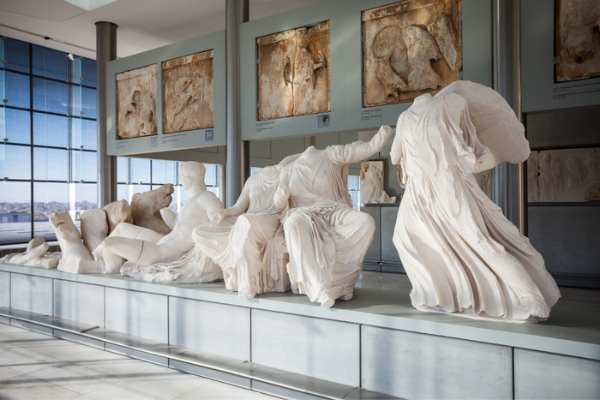 The €130-million museum, which replaced a modest museum near the Parthenon, was designed by US-based architect Bernard Tschumi alongside Greek architect Michael Photiadis and inaugurated in 2009 after decades of preparation. The remaining antiquities of the Acropolis are displayed in this spectacular museum at the foot of the Acropolis' southern slope. From ancient ruins under the structure to the Acropolis itself, which is constantly visible above through floor-to-ceiling windows, the museum displays layers of history.
2] Parthenon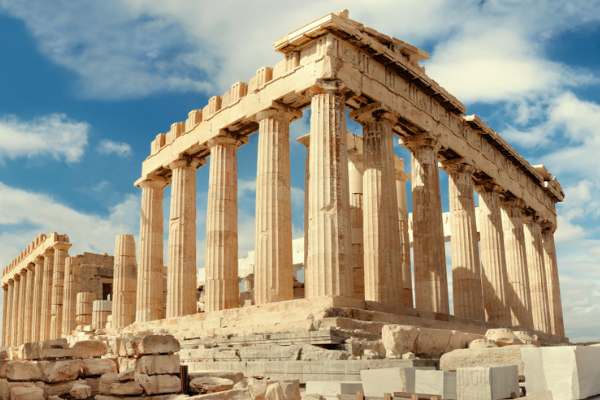 The Parthenon, built to be the most important structure on the Acropolis, embodies the magnificence of Ancient Greece. It is dedicated to Athena Parthenos, the goddess who embodies the city's might and grandeur, and is known as the 'virgin's apartment.' The Parthenon was the biggest Doric temple ever built in Greece, and it took 15 years to construct.
Iktinos and Kallicrates planned it, and it was finished in time for the Great Panathenaic Festival in 438 BC.
3] The Roman Agora & Hadrian's Library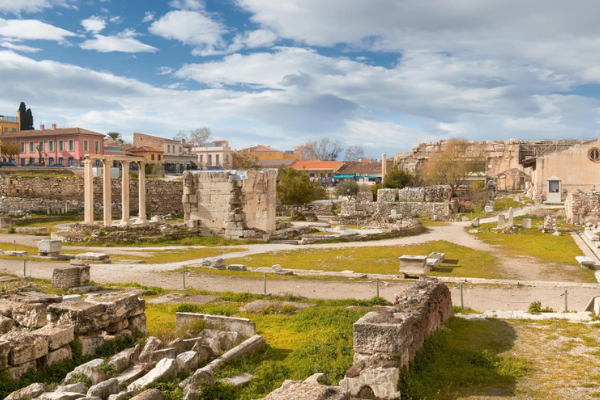 Here's a great example of the amount of education and information that existed 2000 years ago. Hadrian's Library, which opened in 132 AD, housed governmental records as well as rolls of papyrus, which were the equivalent of books at the time. This was the city's largest library, built by the Roman Emperor Hadrian, and it was spectacular by any measure. "The edifice with 100 columns of Phrygian marble, with rooms with painted ceilings, alabaster walls, and niches with sculptures, in which books were housed," wrote the medieval travel writer Pausinias.
4] Panathenaic Stadium & Olympic Stadium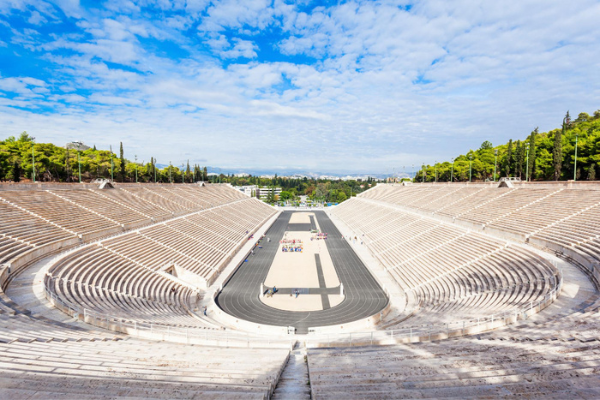 The majestic Panathenaic Stadium is a brilliant light of contemporary Athens and remains one of the city's most popular tourist attractions. It finally became the host of the first modern Olympic Games in 1896, after undergoing various alterations throughout its lengthy history, and it is still the only stadium in the world made completely of marble.
5] Temple of Olympian Zeus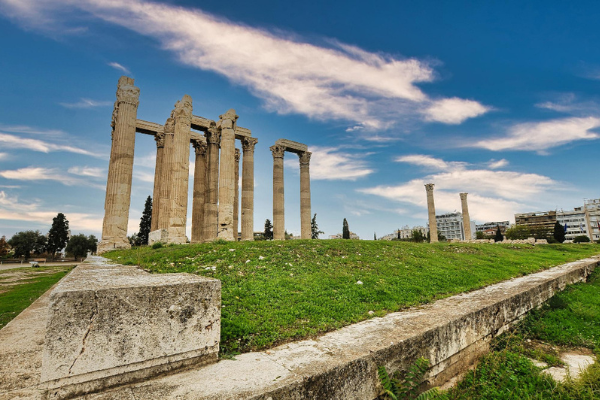 It's a must-see for two reasons: it's a magnificent temple that was once the largest in Greece, and it's right in the heart of Athens. Only 15 of the temple's 104 original Corinthian columns (17m high with a 1.7m base diameter) survive; one was blown down in a wind in 1852.