About Shanghai
Shanghai, located on the Yangtze River, is the most populous metropolis in China and one of the world's most populous cities. Shanghai comfortably wins the title in a nation where megacities are common. Modern buildings that dominate Shanghai's skyline coexist with charming districts that remind tourists of the picturesque streets of Europe.
Cheap Flights to Shanghai PVG:
---
New York (NYC) ⇔ Shanghai (PVG)
Business Class | Round Trip
$3,874
BOOK NOW
---
Chicago (ORD) ⇔ Shanghai (PVG)
Business Class | Round Trip
$3,638
BOOK NOW
---
San Francisco (SFO) ⇔ Shanghai (PVG)
Business Class | Round Trip
$4,278
BOOK NOW
---
Los Angeles (LAX) ⇔ Shanghai (PVG)
Business Class | Round Trip
$4,197
BOOK NOW
---
Dallas (DFW) ⇔ Shanghai (PVG)
Business Class | Round Trip
$4,865
BOOK NOW
---
Shanghai Airport Information
The primary international airport servicing Shanghai, China is Shanghai Pudong Airport. It is situated in Pudong, 30 kilometers (19 miles) from Shanghai's downtown.
Address: Yingbin Expy, Pudong, Shanghai, China
Phone: +86 21 96990
Code: IATA: PVG, ICAO: ZSPD
Hub for: China Eastern Airlines, Air China, China Southern, Juneyao, Shanghai Airlines, and Spring Airlines
Time Zone: China Standard Time (GMT+8)
For more information View the Shanghai Airport page.
Best Time to Visit
Shanghai is best visited in the fall, from September to November, and in the spring, from March to May. The best time to visit Shanghai is in the spring because of the pleasant weather and gorgeous flowers. And in Shanghai, you get the opportunity to sample delectable crabs in the autumn in addition to taking in the brilliant falling leaves.
Top Tourist Attractions in Shanghai:-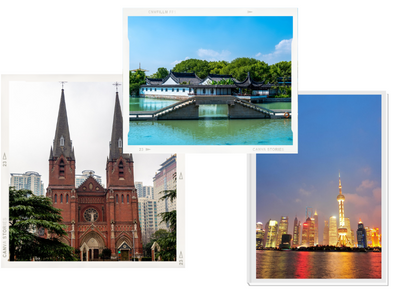 1] The Bund
The bund is a 1.5-kilometer-long boulevard on the western bank of the Huangpu River that runs from Jinling Road in the south to the Waibaidu Bridge in the north.\
2] Yuyuan Garden
Pan yunduan, the former governor of Sichuan, founded Yuyuan Garden for the first time during the Ming Dynasty, and it afterward saw significant expansion.
3] Shanghai Tower
The Shanghai Tower is the tallest skyscraper in China and the second tallest building in the world, rising 632 meters (2,074 ft) above the earth.
4] M50
Moganshan 50, or M50 as it is more often known, is an area of ultra-hip contemporary art on Moganshan Road that is home to more than 120 of the top museums.
View this complete list of top tourists attraction in Shanghai.
View our Special Airfares:
Cheap Flights to Seoul SEL, South Korea