Male, The capital of the renowned tropical islands of Maldives is renowned for its mosques and vibrant structures. In addition to a mosque and a library, the Islamic Center (Masjid-al-Sultan Muhammad Thakurufaanu Al Auzam) has a striking gold dome. It shares a border with an airport island (Velana International Airport), which was constructed on the sea to aid in international travel.
Male is heaven for art and history buffs are located amidst green waterways in a gorgeous setting. It has become a popular vacation spot for travelers because of its immaculate white sand beaches in the warm blue waters. The ideal opportunity to view the Maldives away from the resort buffet and the infinity pool is in Male. The city offers an opportunity to interact with and learn about Maldivians.

Male Airport:-
Airport codes
IATA airport code: MLE
ICAO airport code: VRMM
Address - Malé International Airport, Hulhulé – 22000, Republic of Maldives
Telephone: +960 333 8800
Fax: +960 333 1515
Email: info@maclnet.net
Maldives International Airport's code is MLE, and it is also known as Velana International Airport or simply as the "MLE Airport." The airport sits on hulhulé island, a distinct man-made island in the Kaafu atoll, which is on the southern fringe of the Male atoll.
The airport serves as a gateway for tourists to the Maldives and is connected to other significant airports across the globe. Its financial and operational management is under the control of Maldives Airports Company Limited, a separate commercial entity.
Cheap Flights to Male, Maldives:




Call us at 1-866-723-9393 to know about Airfares and book from unpublished destinations.

Best Time to Visit Male:-
The dry season, which lasts from January to April, is the ideal time to visit the Maldives. The climate is warm and tropical, with minimal rain and low humidity. Year-round high temperatures range from 84 to 88 degrees Fahrenheit.
From May through December, temperatures are still mild, with average lows seldom falling below 75°F, but rain is more common and storms are a possibility. However, there are frequently extended periods of brilliant sunshine even throughout this rainy season. Despite it being the off-peak season, visitors are still likely to come because of the appealing rates and deals.
Top Tourist Attractions:-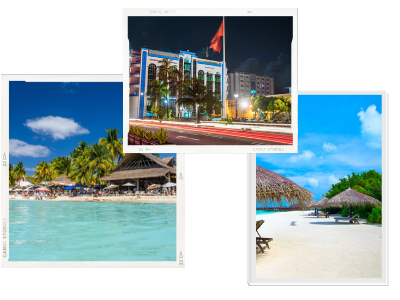 Male, the capital of the island, is a tiny city with a wealth of intriguing attractions that make each visit a wonderful, action-packed experience.
1. Old Friday Mosque -
With a founding date of 1656, this mosque is the nation's oldest. It is a stunning building constructed of coral stone that has been intricately decorated and inscribed with the Quran.
2. China-Maldives Friendship Bridge-
Male to the airport island of Hulhule is connected by an immensely spectacular engineering feat, but unlike other causeways linking islands elsewhere in the nation, this US$250 million project crosses open water, necessitating the installation of substantial concrete supports in the seabed.
3. National Museum
The National Museum of the Maldives may be an obscenely unattractive structure donated by China, but it houses a well-classified collection of historical items that help to trace the strange history of these remote islands.
4. National Art Gallery
The National Library, several cultural institutions from throughout the world, and this exhibition venue, which hosts sporadic exhibits of Maldivian artwork, are all housed under one roof.
When you are in Male, you cannot miss out on its beaches. Water sports are among the best activities to do in Male.
Fly with Cheap Flights to Another Tropical Destination of Mauritius and Must-Visit Travel Destination of Bangkok.