The secret to Mauritius' allure is its unending variation. This African island located in the middle of the Indian Ocean is a favored destination for travelers and is best reached by flight.
During one of his journeys, Mark Twain overheard a Mauritian say, "Mauritius was made first, and heaven was copied after Mauritius."
However, Mauritius offers much more than just beaches, and it is the type of destination that rewards even the tiniest efforts at discovery.
Travelers will be mesmerized by Mauritius' luxurious beaches, first-rate trekking, first-rate mountain climbing, and world-class diving in this hypnotic fusion of Indian, African, and European influences.
Mauritius Airport:-
The major airport serving Mauritius is Sir Seewoosagur Ramgoolam International Airport (IATA: MRU, ICAO: FIMP). It is situated 48 kilometers (30 miles) southeast of Port Louis, the nation's capital. The airport, formerly known as the Plaisance Airport, is served by Air Mauritius, the nation's flag carrier, and it offers direct flights to a number of locations in Africa, Asia, and Europe. The airport is owned and managed by Airports of Mauritius Co. Ltd (AML), whose largest stakeholder is the Mauritius government.
IATA: MRU
ICAO: FIMP
Airport type: Public
Owner: Airports of Mauritius Co. Ltd
Hub for: Air Mauritius

Cheap Flights to Mauritius:-




Best Time to Visit Mauritius
When the weather is clear, bright, and warm—around 22°C—October and November are the finest months to travel to Mauritius. Before the rainy season starts in December, when tourists are starting to thin out for the summer, tropical cyclones become more frequent. Although Mauritius is a year-round beach and scuba diving destination, the wettest months are from January to March when storms add to the humidity. The ideal time to visit Mauritius for a honeymoon may be between April to May.
.
Best Places to Visit in Mauritius
Enjoying the delectable native cuisine, which draws inspiration from Indian, French, Creole, and Chinese cultures will be a true delight throughout your visit.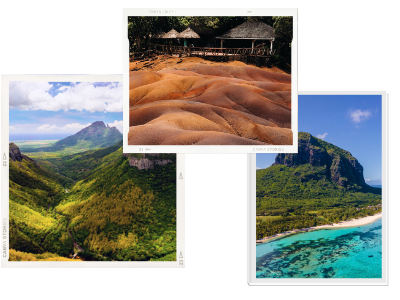 1. Grand Bassin
There is a temple to Lord Shiva there roughly 1800 feet above sea level, is a sacred Hindu site.
2. Sir Seewoosagur Ramgoolam Botanical Gardens
One of the most visited tourist destinations in Mauritius is the Mauritius Botanical Garden, also known as Pamplemousses Garden, and SSR Botanical Garden, which is close to Port Louis.
3. National Park of Black River Gorges
In the rugged south-western region of Mauritius, there is a national park called Black River Gorges National Park which covers an area of 6,574 hectares.
In order to preserve the island's native flora and make it one of the top tourist destinations in Mauritius, it was built in the Black River Gorges Nature Reserve.
4. Port Louis
The capital and the largest port of Mauritius is Port Louis, which was built in 1735 by renowned French administrator Mahe de Labourdonnais. The largest city in Mauritius at the moment is Port Louis. The Port Louis Moka Range, a mountain range, encircles Port Louis.
Check this complete list of Top Tourist attractions in Mauritius.
Check our Special Airfares to other incredible Travel Destinations in Bali, Paris, and Athens.