About Casablanca -
The major economic hub of Morocco is Casablanca. The population of Casablanca is more than 3 million. Gray skyscrapers, rather than lovely historic structures, dominate Casablanca's cityscape. Casablanca is authentic.
With its setting on the Atlantic Coast and pleasant, sunny weather, Casablanca draws both inhabitants and visitors to beaches like Ain Diab. The city is perfectly situated for day visits to Rabat, the famed El Jadida harbor. Jazz musicians from all over the world come to Jazzablanca in April.
Cheap Flights to Casablanca (CMN)

Call us on 1-866-723-9393 to check / book airfares to Casablanca from other USA Cities.
Casablanca Airport
Casablanca Mohammed V International Airport, the busiest airport in Morocco and a major air transportation hub for North Africa, provides details on its amenities, public transit, and lodging alternatives nearby. The airport is situated in Nouasseur, a Moroccan neighborhood 30 kilometers southeast of Casablanca.
Code: CMN
Address: Casa-Oasis, Nouasseur, BP 8101 Casablanca, MOROCCO
No of Terminals: 2
Telephone: +212 5225-39040
Call center: +212 080 1000 224 / 22 43 5858
Email: a.lahkim@onda.ma
Time Zone: Western European Time GMT +0000
Best Time to Visit
Morocco is best visited in the spring (mid-March to May) or the fall (September to October). Unlike the freezing temperatures and snow of winter or the sweltering heat of summer, the weather is mild yet comfortable.

Top Tourists Attractions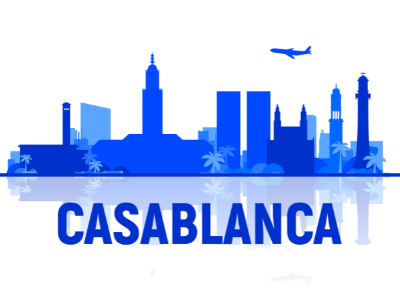 1. Hassan II Mosque
The second-largest mosque in Africa is the renowned Hassan II Mosque, which was finished in 1993 and is perched on a terrace overlooking the Atlantic Ocean. It gives the ability to pray on a glass floor, offering the unusual impression of worshiping straight over the sea, and can hold up to 25,000 worshippers.
2. Morocco Mall
The largest shopping mall in Africa, Morocco Mall, is situated at the end of the La Corniche neighborhood. Morocco Mall is a contemporary center that has enough to keep anyone amused for the entire day.
3. Abderrahman Slaoui Museum
The museum is devoted to displaying the colorful Moroccan art collection of the Moroccan businessman and collector Abderrahman Slaoui.
4. Parc de la Ligue Arabe
The Parc de la Ligue Arabe is located to the south of Place Mohammed V. This park, which includes an avenue lined with palm trees, was created in 1918 and is the largest open area in Casablanca.
View this list of the top attractions and things to do in Casablanca, you can learn about the greatest spots to visit in the city.
Embark on an unforgettable getaway with our Special Business Class Airfares to Africa.
Also, Check out special airfares to these popular tourist destinations:-
Cheap Flights to Mauritius
Cheap Flights to Seychelles
Cheap Flights to Cairo.