Origin Airport - Newark Liberty International Airport (EWR)
Destination Airport - Indira Gandhi International Airport (DEL)
Distance - 7,207 Miles / 11760 km
Flight Duration - 14h 35m ( Nonstop Flights )
Low Season - April to June
High Season - October to March
Time zone: Indian Standard Time - Delhi, India (GMT+5:30)
Cheap Flights from Newark EWR to New Delhi DEL
---
Newark (EWR) ⇔ New Delhi (DEL)
Business Class | Round Trip
$2,434
BOOK NOW
---
Newark (EWR) ⇔ New Delhi (DEL)
Economy Class | Round Trip
$798
BOOK NOW
---
Newark (EWR) ⇔ New Delhi (DEL)
Premium Economy Class | Round Trip
$1,495
BOOK NOW
---
Newark (EWR) ⇔ New Delhi (DEL)
First Class | Round Trip
$4,715
BOOK NOW
---
About Delhi:
Huge, vibrant, and full of energy, India's capital is a place where the very old and the exhilaratingly contemporary contrast. The traditions of India are being transformed and enhanced by modernity as the country continues to flourish. The finest spot to explore India's history, culture, cuisine, and mystery is in Delhi.
Delhi Airport Information:
The main international airport servicing Delhi, the capital of India, and the National Capital Region is Indira Gandhi International Airport (NCR). Delhi Airport is one of the busiest airports in the world by passenger traffic. According to seating capacity, it is the second busiest airport in the world.\
Name: Indira Gandhi International Airport
Code: (IATA: DEL, ICAO: VIDP)
Address: New Delhi, Delhi 110037, India
Hub for: IndiGo, Air India, Vistara, SpiceJet, Go First, Jet Airways
Phone: +91 124 479 7300
View this page for more information about Delhi Airport.

Best Time to Visit Delhi:
From October to March, when the weather is at its peak, is the ideal time to visit Delhi. The pleasant weather makes it easy to enjoy Incredible Delhi. For outdoor excursions, February and March feature excellent weather and comparatively pure air.
Top Tourists Attractions in Delhi: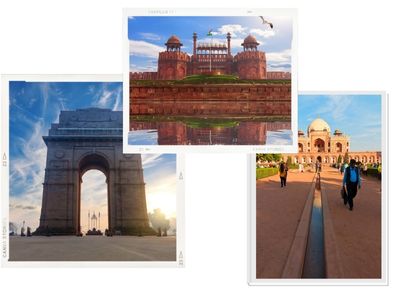 1] India Gate
One of the top tourist attractions in Delhi, this monument was built in 1931 and is venerated as a tribute to the Afghan and World War I dead.
2] Jantar Mantar
One of the city's main attractions, Jantar Mantar, is beautiful to view. The astronomical observatory is one of Delhi's most interesting tourist attractions.
3] Red Fort
Red Fort, which was founded in 1638, is known as the face of the Indian Capital and is a popular tourist destination in Delhi. It features commanding walls and is entirely constructed of red sandstone. One of the attractions to visit in Delhi with friends and family is the Red Fort.
4] Qutub Minar
Scriptures are artistically carved and inscribed on this distinctive five-story brick minaret. With a height of 73 meters, it was constructed by Qutub-ud-din-Aibak, thus the name.
With this list of the top tourist attractions in Delhi, India, you can find the best spots to visit in this energetic, bustling city.
Also, view our Cheap flights from Dallas to Delhi.
View our Special Flights from Newark:
Cheap Flights from Newark EWR to Venice VCE
Cheap Flights from Newark EWR to Mumbai BOM
Cheap Flights from Newark EWR to Amsterdam AMS
Cheap Flights from Newark EWR to Edinburgh EDI