Origin Airport: George Bush Intercontinental Airport (IAH)
Destination Airport: Josep Tarradellas Barcelona-El Prat Airport (BCN)
Flight Distance: 5,247.41 mi (8,444.89 km)
Duration: 12h 21m+ (Connecting flight)
Low Season: late September to October
High Season: May-September
About Barcelona:
Barcelona, the capital of Catalonia may be a late-night party town, yet it nevertheless manages to capture a serene form of time travel. Barcelona, located in northern Spain along the Mediterranean Sea, is a vibrant melting pot of cultures home to world-famous food, legendary art, music, and more. Known as Spain's top biotech city, the city is a transportation hub and one of the economic hubs of southern Europe.
Cheap Flights from Houston to Barcelona:
---
Houston (IAH) ⇔ Barcelona (BCN)
Business Class | Round Trip
$2,372
BOOK NOW
---
Houston (IAH) ⇔ Barcelona (BCN)
Economy Class | Round Trip
$696
BOOK NOW
---
Houston (IAH) ⇔ Barcelona (BCN)
Premium Economy Class | Round Trip
$1,156
BOOK NOW
---
Houston (IAH) ⇔ Barcelona (BCN)
First Class | Round Trip
$4,328
BOOK NOW
---
Barcelona Airport Information:
Catalonia's primary airport, Barcelona Airport, is the second-busiest airport in Europe after Madrid. It is the largest airport in Spain.
Josep Tarradellas Barcelona-El Prat Airport is a popular choice for travelers, not only to the cosmopolitan city itself but also to the entire Catalan region, including well-known tourist destinations on the Costa Brava like Sitges and Tossa del Mar. This airport is a gateway to one of Spain's most stunning coastal areas.\
Name: JOSEP TARRADELLAS BARCELONA-EL PRAT AIRPORT GUIDE
AIRPORT CODE: IATA: BCN - ICAO: LEB
LOCATION: 08820 El Prat de Llobregat, Barcelona, Spain
Telephone: +34 902 404 704
For more information about the Barcelona Airport.
Best Time to Visit Barcelona
The ideal months to visit Barcelona are May and June when warm weather in the low to mid-seventies coincides with a rush of summertime festivities. The actual summer is oppressively humid.
Places to Visit in Barcelona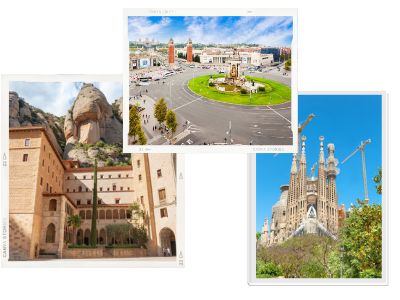 Sagrada Familia is Barcelona's most popular attraction and a must-visit spot for everyone. This beautiful church is regarded as one of the finest works of master architect Antoni Gaudi and boasts immaculate interiors. It would certainly be a sin to talk about Barcelona and not to mention the Montserrat Mountain Range. Montserrat is the Benedictine monk mountain near Barcelona. A walk along the top of the mountain range will get you the city's most excellent views. Another famous attraction in Barcelona is the gothic monastery of Pedralbes. It has a very beautiful and well-maintained park where you can experience the silence that you will not find anywhere else in Barcelona. Get cheap flights to Barcelona and travel to this wonderful city with TravelGuzs.
Learn more about the best places to visit and things to do with this list of the top attractions in Barcelona.
---
View TravelGuzs special airfares from Houston to amazing domestic and International destinations