About Doha
Doha is rapidly developing into an alluring tourist destination. It is the center of one of Asia's most active economies, scheduled to host the FIFA World Cup 2022, and continuously adding new wonders to its stunning cityscape.
Doha's population is quite diversified. Due to the influx of people needed to support the increasing economy, Doha is currently one of the cities with the greatest growth rates in the world.
Doha has more inhabitants than the rest of Qatar combined and has grown to become one of the gems of the Middle East from its humble beginnings as a little pearl fishing hamlet. Similar to the growth experienced in neighboring Dubai and Abu Dhabi, it is one of the Persian Gulf's fastest-growing cities and aims to become a hub for global trade and tourism.
The metropolis is being constructed using cutting-edge technology, and new luxury hotels, and retail centers, are top-notch. The nation is rich in Bedouin customs and has a long and illustrious history underneath and beyond the opulent hotels and dazzling towers of Doha.

Doha International Airport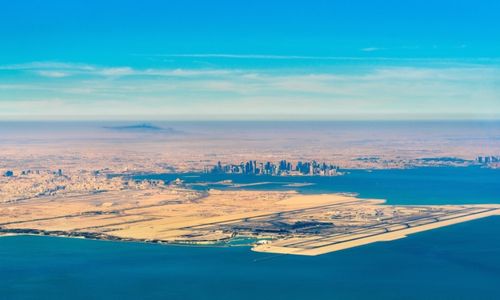 Doha's Primary Airport Hamad International Airport is the home to Qatar's flag carrier Qatar Airways. The airport is located in the south of Doha city. The new airport replaced the Doha International Airport as the primary airport.
Address: 7J67+9G4, Doha, Qatar
Phone: +974 4010 6666
Code: IATA: DOH, ICAO: OTHH
Hub for: Qatar Airways, Al Maha Airways, Qatar Executive
Time Zone: Arabian Standard Time (GMT+3)
Visit this page for more information about Doha Airport.

Best Time to Visit Doha, Qatar:-
Doha experiences pleasant winters and sweltering summers. The warmest months are June, July, and August when highs exceed 120 degrees Fahrenheit. The wettest months are also July and August. The greatest time to travel is from October through March when daytime highs normally range from 70 to 90 degrees.
View this list of top tourists attraction in Doha, Qatar.
Cheap Flights to Qatar - Doha (DOH):-
---
San Francisco (SFO) ⇔ Doha (DOH)
Business Class | Round Trip
$3,328
BOOK NOW
---
Seattle (SEA) ⇔ Doha (DOH)
Business Class | Round Trip
$3,475
BOOK NOW
---
Chicago (ORD) ⇔ Doha (DOH)
Business Class | Round Trip
$3,289
BOOK NOW
---
New York (JFK) ⇔ Doha (DOH)
Business Class | Round Trip
$2,716
BOOK NOW
---
Philadelphia (PHL) ⇔ Doha (DOH)
Business Class | Round Trip
$3,897
BOOK NOW
---
Miami (MIA) ⇔ Doha (DOH)
Business Class | Round Trip
$2,980
BOOK NOW
---
Boston (BOS) ⇔ Doha (DOH)
Business Class | Round Trip
$3,902
BOOK NOW
---
Houston (IAH) ⇔ Doha (DOH)
Business Class | Round Trip
$3,613
BOOK NOW
---
Dallas (DFW) ⇔ Doha (DOH)
Business Class | Round Trip
$3,789
BOOK NOW
---