Discover the city of Istanbul with our Touristanbul offer. You take advantage of the offer on a Stopover of at least 6 hours and a maximum of 24 hours on an International connecting flight in Istanbul.
You can see Istanbul's most significant historical places and savor traditional Turkish cuisine with the help of Touristanbul. Touristanbul gives an exceptional experience in the nonstop city.
The Touristanbul service is complimentary if you travel on an international aircraft with a connection through Istanbul and have a layover of between six and 24 hours. You will be picked up by a car at Istanbul Airport when your flight arrives, and at the conclusion of the tour, you will be driven back to the airport.

Discover Istanbul
There's something about the old and the new coming together that gives a place character. This is certainly true of Istanbul, which was once Constantinople, the capital of the Byzantine Empire, and is now Turkey's biggest city.
Visitors to this fascinating city are in for a treat with its historic monuments, beautiful mosques, churches and synagogues, impressive palaces, and cafes with wonderful views; there's something for everyone.
You visit the most famous buildings and landmarks in Istanbul with Touristanbul. You'll get a glimpse of the city, see some of the most famous buildings in the entire world, and enjoy a stunning perspective of the fabled Bosphorus!
In a fine restaurant, you can enjoy traditional Turkish and Ottoman cuisine while on your tour.
Additional Tour Istanbul Options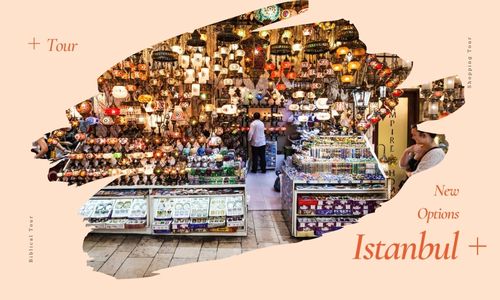 Starting December 01, 2022, we update Tour Istanbul services with new tours to our existing tour schedule: Biblical Tour and Shopping Tour.
The Biblical Tour will take place every morning between 08:00 – 12:00, and the Shopping Tour will take place every evening between 18:30 – 23:00. Both tours include guide services and transportation.
Winter is the season of shopping and excitement in Istanbul. As a result, the fresh additions will make it easy for you to have an enjoyable evening experience. Shopping Tour will be available between 18:30 – 23:00 with an English-speaking guide service.
The 2 new tours, which continue with 6 different tours every day, 365 days a year.
Talk to one of our certified travel advisors for more details: 1-866-723-9393