Origin Airport: George Bush Intercontinental Airport (IAH)
Destination Airport: Schiphol Airport International Airport (AMS)
Flight Distance: 5,029 miles / 8093 kilometers
Duration: 9h 20m (Nonstop flight)
Low Season: September to November and March to April
High Season: May and August
Time Zone: Central European Summer Time - Time zone in Amsterdam, Netherlands (GMT+2)
Cheap Flights from Houston IAH to Amsterdam AMS:
---
Houston (IAH) ⇔ Amsterdam (AMS)
Business Class | Round Trip
$2,376
BOOK NOW
---
Houston (IAH) ⇔ Amsterdam (AMS)
Economy Class | Round Trip
$645
BOOK NOW
---
Houston (IAH) ⇔ Amsterdam (AMS)
Premium Economy Class | Round Trip
$1,189
BOOK NOW
---
Houston (IAH) ⇔ Amsterdam (AMS)
First Class | Round Trip
$3,431
BOOK NOW
---
About Amsterdam:
Cobblestone streets, historic townhouses, famous canals, and bridges with floral decorations. Amsterdam has plenty of charm and is picture-perfect.
Amsterdam is a wonderful town with museums, concerts, and culture, and it can appeal to a wide range of people thanks to its canals and coffee shops.

Amsterdam Airport:
Address: Evert van de Beekstraat 202, 1118 CP Schiphol, Netherland
Phone: +31 20 794 0800
Code: (IATA: AMS, ICAO: EHAM)
Province: North Holland
Hub for: KLM, Transavia, Delta Air Lines, TUI fly the Netherlands, MORE
Number of runways: 6
The primary airport in the Netherlands, Schiphol Airport, often known as Amsterdam Airport, is located in Amsterdam. In terms of passenger traffic, it is one of the busiest airports in the entire globe. AMS Airport is situated in the North Holland town of Haarlemmermeer, 9 kilometers (5.6 miles) southwest of Amsterdam.
For more information visit this page about Amsterdam airport.
Best Time to Visit:
Amsterdam is best visited in either April or September (springtime or late summer). There are multiple national holidays in April, and rainfall is at its lowest. However, September has fewer visitors, making hotel rates more reasonable and the atmosphere more tranquil.
Top Tourists Attractions in Amsterdam: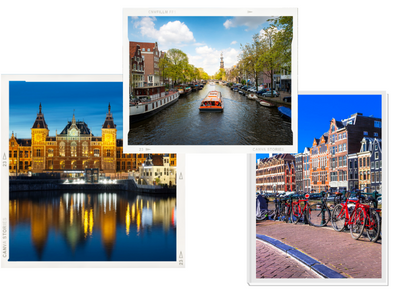 1. Canals of Amsterdam
Visitors may take in the typical Dutch architecture of the city while resting on a boat trip down one of the city's 100 canals.
2. Rijksmuseum
The nation's vast collection of priceless works of art and antiquities was housed in the Rijksmuseum (National Museum), which was established in 1798.
3. Van Gogh Museum
The biggest collection of paintings and correspondence by the artist may be seen in the Van Gogh Museum. Located inside a four-story structure that Gerrit Rietveld created in the 1970s
4. Anne Frank House
The Anne Frank Huis is located along the Prinsengracht canal and is the most popular tourist destination in Amsterdam. Visitors may see displays that detail Anne's life as well as the rooms where she resided.
View this list of the top attractions in Amsterdam that will help you find the best spots to visit in this vibrant city.
Also, check airfares to Amsterdam AMS from:
Cheap Flights from Boston BOS to Amsterdam AMS
Cheap Flights from San Francisco SFO to Amsterdam AMS
Cheap Flights from New York JFK to Amsterdam AMS
Cheap Flights from Washington IAD to Amsterdam AMS

View TravelGuzs Cheap Flights from Houston (IAH) to destinations in the US and internationally.