Origin Airport: Hartsfield–Jackson Atlanta International Airport (ATL)
Destination Airport: Istanbul airport (IST)
Flight Distance:5759 miles / 9268 kilometers
Duration: 10h 30m (Nonstop flight)
Low Season: December through February
High Season: Mid-April to June and September to October

About Istanbul:
Istanbul is unlike any other city in the world. Istanbul is a metropolis of layers and contrasts that is spread over two continents. Istanbul serves as the nation's transportation center, with planes traveling all throughout Turkey and the rest of the world, and is also home to a large number of independent galleries and creative eateries.
Istanbul has long been a crossroads of cultures and continents, and it continues to astound tourists with its quick pace, rich past, and vibrant present. This city is a fascinating vacation destination because of all of these factors, which will appeal to just about everybody.
Cheap Flights from Atlanta ATL to Istanbul IST
---
Atlanta (ATL) ⇔ Istanbul (IST)
Business Class } Round Trip
$2,268
BOOK NOW
---
Atlanta (ATL) ⇔ Istanbul (IST)
Economy Class | Round Trip
$780
BOOK NOW
---
Airport Information:
Airport Name: Istanbul International Airport
IATA Code: IST
ICAO: LTFM
Location: Arnavutköy, Istanbul Turkey
Time Zone: TRT Turkey Time (UTC+3)
The Istanbul Airport is situated in the European side of the city's atalca- Göktürk-Arnavutköy neighborhood, 40 kilometers from Taksim and 52 kilometers from Kadköy. Its duty-free area is one of the largest (if not the largest) in the world, and it is situated in the midst of Tayakadin and Akpinar village, serving more than 350 domestic and international destinations in 110 countries.
Visit this website for more information on Istanbul Airport.
Best Time to Visit:
Istanbul is best visited in the months of Mid April to June and between September to October. Istanbul's busiest travel season is in the summer. Although the weather is hot and muggy, the sun is gorgeously reflecting off the Bosphorus, and there is a wealth of outdoor seating at cafés, restaurants, and bars, creating a vibrant urban atmosphere. Other activities like concerts and festivals are also held outside.
Places to Visit in Istanbul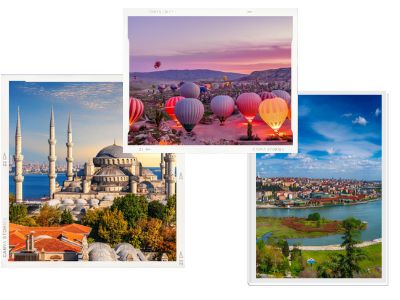 Galata Tower, a medieval stone tower is one of the oldest towers, which offers the old city view. It was the tallest building in Istanbul, previously named as Tower of Christ. Dolmabahçe Palace is the most glamorous and luxurious palace in the world, which is situated in Istanbul's Beşiktaş district. The design contains monuments from Baroque, Rococo, and Neoclassical blend with traditional architecture. Grand Bazaar is the largest indoor marketplace in the world, which is a paradise for shoppers. This is the place where you will find old coins, unique jewelry with precious gems, ornamented weapons, and antique furniture. Topkapi Palace is most visited by tourists and has stunning scenery. It has a large Istanbul museum that displays the Ottoman Empire's imperial collections. Galata, Beyoğlu, üsküdar, and Kadıköy are just some of the most vibrant districts in the city, offering visitors threesome entertainment, history, and flavors, making Istanbul a unique jewel. The cheap business class flights to Istanbul from Atlanta are just the chance you need to visit this amazing city.
Plan your trip to Istanbul and check this list of the top attractions and things to do in Istanbul.