Milan is one of the fashion capitals of the world, and it does style, unlike a few other cities. But there are also plenty of fascinating museums and other things to see and do there.
Milan is a great place to visit since it has all the benefits of a big city but is yet relatively small, allowing visitors to easily walk to most of the city's attractions and museums.
The Duomo di Milano, an amazing Opera House, a majestic fortress, historic cathedrals, and a wide array of museums and art galleries are just a few of the city's most stunning landmarks.
Make sure to enjoy a traditional Milanese aperitivo at a stylish bar or a fantastic restaurant that experts in the design industry recommend.
Cheap Flights to Milan (MXP):-





Call us at 1-866-723-9393 to know about airfares or book from other cities in the USA.
Special Airfares from Newark to Milan:-
---
Book your round-trip tickets to Milan in Business Class for $2,000 USD from Newark (EWR). You shouldn't miss this awesome opportunity to travel at a discounted price.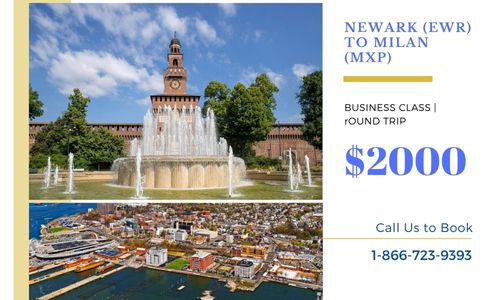 Designers, artists, photographers, and models are drawn to Milan. But it's also Italy's biggest industrial metropolis and a haven for foodies. Milan is a city for everyone, and its refined atmosphere and secret nooks make it a fantastic place to explore.
But it has a lot more to offer, including charming tiny streets, fantastic shopping, and more undiscovered wonders.
The offer is valid for a limited period. Don't miss this awesome opportunity to travel at affordable airfares to Milan. Call us at 1-866-723-9393 to book with above airfares.
Milan Airport Information:-
Code: MXP
Address: 21010 Ferno
No. of Terminals: 2
Phone: +39 02 232 323
Time Zone: Central European Time (GMT +0100)
The largest of the three airports serving the Milan region in northern Italy, Milan Malpensa Airport (IATA: MXP ICAO: LIMC) is located there. It provides service to the Swiss Canton of Ticino as well as the areas of Lombardy, Piedmont, and Liguria.
The Malpensa Airport is situated near Ferno, Varese, which is 49 kilometers (30 miles) from Milan.
View more information about Milan Airport.
Best Time to Visit Milan:-
Milan is best visited in April through May or September through October. These spring and autumn seasons occur in the middle of the city's hectic peak tourist season and are also cooler than the summer. Check the all-season travel.
View this complete guide to the best time to visit Milan.
Places to Visit After Flying to Milan
When it comes to places to visit in Milan, there is a long list that follows and varies depending on who sees the person and who recommends. But we can agree on one thing, and that's how Milan is the perfect place to spend and enjoy your time. In this incredibly beautiful city, surrounded by fascinating attractions,
Top tourist attractions in Milan: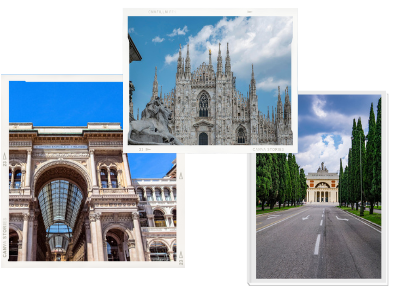 - Duomo
- Galleria Vittorio Emanuele
- Visit the Acquario
- Sightseeing
- Churches
- Street Art
View all top tourist attractions in Milan.
Also, view our special airfares to Florence, Rome, Venice, and Naples.