About Melbourne:-
Australia's top fashion, art, sports, and cuisine are all found in the cosmopolitan Melbourne, which is frequently named one of the world's most livable cities. This city is one of the most diversified in the area because of strong waves of immigration from southern Europe and Asia, which is enthusiastically reflected in the local culinary scene. Melbourne, with its Victorian architecture, open boulevards, and opulent parks, exudes an old-world elegance. However, the city's vivid street art and cutting-edge cultural events, including the yearly Fringe Festival, particularly showcase its young spirit.

Cheap Flights to Melbourne (MEL):-
---
Los Angeles (LAX) ⇔ Melbourne (MEL)
Business Class | Round Trip
$4,178
BOOK NOW
---
San Francisco (SFO) ⇔ Melbourne (MEL)
Business Class | Round Trip
$4,468
BOOK NOW
---
Dallas (DFW) ⇔ Melbourne (MEL)
Business Class | Round Trip
$4,578
BOOK NOW
---
Chicago (ORD) ⇔ Melbourne (MEL)
Business Class | Round Trip
$4,666
BOOK NOW
---
Call us at 1-866-723-9393 to book from other cities in the USA.
Melbourne Airport Information
The main airport servicing the city of Melbourne and the second busiest airport in Australia is Melbourne Airport, also known as Tullamarine Airport. To replace the adjacent Essendon Airport, it first opened in 1970.
Address: Melbourne Airport VIC 3045, Australia
Phone: +61 3 9297 1600
Code: IATA: MEL, ICAO: YMML
Hub for: Qantas, Jetstar, Virgin Australia Airlines, Rex Airlines
Number of runways: 2
Time Zone: Australian Eastern Standard Time (GMT+10)
For more details about Melbourne Airport visit this page.
Best Time to Visit:
Melbourne is at its most beautiful between March and May and between September and November. The visitor throngs and temperatures during these off-seasons are bearable, and airline prices are also reduced. Melbourne is packed to the gills with hot, sweaty tourists during the summer months of December to February (North America's winter months), whereas the winter months of June through August (Melbourne's winter season) provide cool weather and fewer people.
Top Tourist Attraction: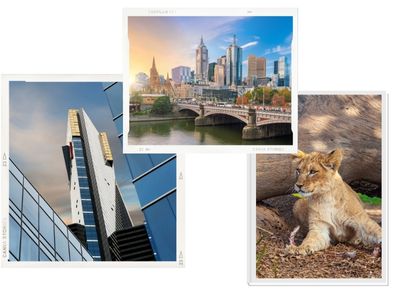 1] Royal Botanic Garden
The Royal Botanic Gardens are located in South Yarra. Even though it is lush in Melbourne's downtown, it feels like a faraway place. You may take a stroll along the Australian Forest Walk in the Royal Botanic Gardens while taking in the local plant and animal life. More than 10,000 plant species from all over the world, including many rare species, may be found in these 38-acre areas.
2] Eureka Tower
Find a great view over the city from the 91-story Eureka Tower in the heart of Southbank. This striking skyscraper was named in recognition of The Eureka Stockade, the 1854 rebellion of prospectors in the Victorian goldfields.
3] Melbourne Cricket Ground
Given that Melbourne is Australia's sporting capital, it should come as no surprise that sports stadiums are among the most popular tourist destinations in the city. The Melbourne Cricket Ground (MCG), which has a capacity of 100,000 and a history that dates back to 1853, is regarded as one of the best stadiums in the whole world

4] National Gallery of Victoria
Victoria's National Gallery is the crown gem. Not only is it Australia's oldest public art gallery, but it also receives the most visitors. In two metropolitan sites, you may view more than 70,000 pieces of art from Europe, Asia, the Pacific, and America.
5] Melbourne Zoo
The 22-hectare Melbourne Zoo offers a lot of attractions for animal enthusiasts. Despite the zoo's 1862 founding and houses more than 250 different types of animals in contemporary cages.
View this list of top tourists attraction in Melbourne.