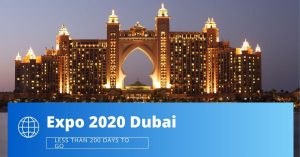 The Countdown has started as less than 200 days are left for Expo 2020 Dubai. The Six-month event starting on Oct 21, 2021, to March 21, 2022, is gearing to bring its theme 'Connecting Minds, Creating the Future' to life. The Countdown clock was launched on 06 Dec 2020 by official Timing provider Swatch at Dubai Frame. New Countdown clocks will be revealed at The Dubai International Financial Centre and The Dubai Mall soon.
Volunteers can register till March 31
The Authorities have announced that the application to register for Expo 2020 volunteers will close on March 31, 2021. "If you're a UAE citizen or resident, now's your last chance to join the Expo 2020 Volunteers Programme. This special initiative offers you the opportunity to become an ambassador for the UAE, helping to welcome millions of visitors to the first World Expo in the region," Expo 2020 Dubai said in an email. You can apply to become a volunteer on the official website. UAE nationals and residents with valid emirates ID aged 18 and above can apply to become volunteers. After completion of the registration process, volunteers will undergo 4 days of training in Dubai.
Experience Terra – The Sustainability Pavillion
Enjoy and Experience how Humans can live in harmony with nature in a high tech future at Terra – The Sustainability Pavillion. Venture through the forest, dive ocean depth, enjoy family activities, live performances and much more only at AED 25 per person at Expo 2020 pavilion premiere which is open till April 10, 2021.
Commitment to Accessibility
Expo 2020 Dubai is recognized with sensory Accessible Event certification. The International Board of sensory accessibility (IBSA) certifies Expo 2020 Dubai in acknowledgement of Expo's pledge to host the most accessible and inclusive World Expo in history. Expo 2020 Dubai has become the first event in the Middle East and Asia region to receive sensory accessible certification. The Sensory Access presented the certification to Expo 2020 at the event to mark World Autism Awareness Day held on April 2 at Terra – The Sustainability Pavilion.
The Innovative measure such as an on-site quiet room for visitors experiencing sensory overload or anxiety, The PODium app designed to help people of determination navigate expo with features such as 3D visual mapping, audio navigation and haptic feedback, 3D tactile models of Expo's flagship architecture. 
Expo 2020 aims to help people of determination to Build their professional skillsets and work experience portfolios by working in collaboration with the ministry of community development. Tickets to Expo 2020 will be free of charge for people of determination, and half the price for their companion. 
Impacting society through Cricket
Expo 2020 is the Principal Sponsor of the Rajasthan Royals with one year deal. The Indian Premier League (IPL) is one of the most anticipated sporting events with more than half a billion viewers globally. The Expo logo will be featured on the Jerseys of Rajasthan Royals players throughout the IPL 2021 season. Royals were the Champions of the inaugural IPL. 
Expo 2020 which is set to begin on October 1, 2021, will be able to reach cricket fans worldwide with the tournament's International Reach.
The Partnership shows the commitment to impacting society through cricket with various social development programs. 
Expo 2020 will feature a dedicated India Pavilion.
Expo Talks
Expo 2020 will be hosting a series of talks and discussions ranging from space to biodiversity. Expand your horizon with Expo talks on topics including "How to protect our precious resource today, for tomorrow?" and "Global Goals".
A look Inside Monaco Expo's 2020 Pavillion